THE TRAGEDY
We wish this book to be a retelling of the joy and contributions of Aureet's life. But we are torn by the tragedy of her death which could have been prevented. We must include this story too. We have tried to effect changes in rescue preparedness. It is our hope that others will be spared because of these efforts.
With thanks to the members of CPSR:
Citizens for Public Safety and Rescue
(Douglas McKelvy and Nancy Bryant - Chairpersons)
SUMMARY OF TIMELINE
What follows is a time line of Jan. 6 1991 reconstructed from discussions with people who came to us after Aureet's death to share with us their experience on that day. Most of them came to us in frustration over the inaction and lack of preparedness of the responding police and firemen of the town of Lincoln. We tried to find out what happened. We had one meeting with Lincoln police officers and firemen on Jan. 10. After that meeting the selectmen of Lincoln did not allow us to ask question or to talk with their officers. We also met with DeCordova Museum employees. Several months later the Lincoln selectmen performed an internal investigation. We received copies of their report including notes about the Lincoln officials' responses to questions asked by the Lincoln selectmen.
Aureet slipped from the edge of the ice near the shore of Sandy pond in Lincoln while trying to help her dog, Flame, who ran into the water. There were many problems with the rescue effort, beginning with a part-time dispatcher who did not keep the caller on the line to ensure correct transfer of information and continued to give incorrect directions up to one hour after the first call. Despite this, five police and firemen arrived directly to the site only 12 minutes after the first call. They stopped the civilian rescue effort that involved several people using a long heavy duty electrical cord to secure a rescuer trying to reach Aureet who was under water. The police and firemen then waited for over an hour and twenty minutes for a diver to arrive despite Aureet being in only 5'6" of water, immediately beyond the edge of the ice, 40' from shore. At the site was a back board and on the fire trucks nearby were ladders that could have been used to make a platform on the ice. From the platform, they could have used the heavy duty electrical cord to secure rescuers.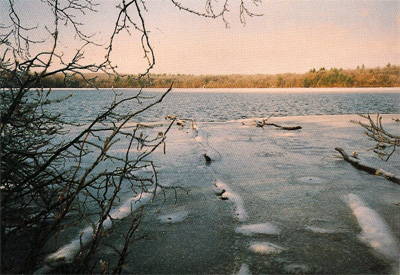 Site of the accident
During the wait, the primary activity were calls by one of the policemen asking for identification of the 'victim' using the dog tag information from Aureet's dog who had been taken from the water. These calls were fielded by the overburdened dispatcher. The calls were recorded on tape by the Maynard police station that was monitoring a radio channel.